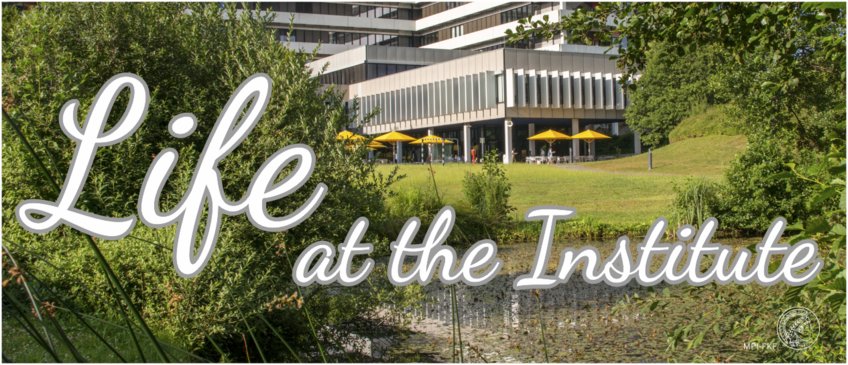 Our institute is home to over 500 staff and students. On this page, we highlight some of these people, showing off not only their scientific research, but also their life here in Stuttgart.
Rebecca Pons: a German PhD student working on solid state spectroscopy.
Rebecca is working on the newly discovered nickelate superconductor. She grows thin films by molecular beam epitaxy, and then completes a chemical reduction and analysis to find the material's oxidation state. Rebecca wasn't always an experimentalist, and comes from a theoretical background with a Masters on ferromagnetism in twisted bilayer graphene.
Rebecca is also one of the institute's PhD representatives. The PhD representatives aim to foster community amongst the PhD students by organising events such as board game nights, BBQs, and an annual PhD trip. This year's trip was to Vienna, and the students spent their time visiting other scientific institutes, as well as enjoying some city-seeing and plenty of team-bonding. The representatives also organise career events, such as a recent python workshop. Outside of the institute, Rebecca enjoys music, and has found a fellow PhD student to make music with; he plays piano while she plays violin.
Prosper Ngabonziza: a Rwandan PostDoc working on quantum electronics.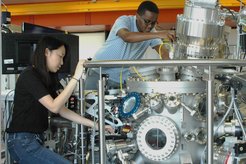 Prosper's research work at the Max Planck Institute focuses on quantum matter heterostructures and related nanoscale electronic devices. He is also a member of several international scientific communities, such as the Global Young Academy (GYA) and the African Lightsource Foundation. Within his work, Prosper takes advantage of many of the resources here at the institute, such as collaboration with the Stuttgart Center for Electron Microscopy, using the cleanroom facility of our Nano-structuring lab, our computer services and our various supply stores.
Beyond his scientific work, he also makes use of our in-house childcare center. He is glad that his child can benefit from a childcare center that has good infrastructures, pedagogical tools, and bilingual teachers. Sometimes, he also attend various events and recreational activities within the city of Stuttgart. For example, Prosper often takes his children to various playgrounds, museums, and the zoo. Two stand-out events for him are Stuttgart's Africa festival and the Stuttgart Christmas market.
Soon Jung Jung: a Korean senior scientist working with low-temperature scanning tunnelling microscopy.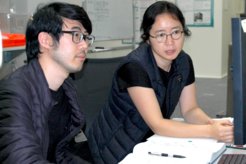 After completing her PhD in South Korea—with much time spent on exchange at Stanford—Soon Jung started researching semi-conductors at Dublin Trinity College. Shortly after, in 2013, she continued this research at our institute in Stuttgart. Soon Jung typically starts her day by dropping her youngest of two daughters off at our institute's on-campus child care centre. From there, she will meet with her PhD student to discuss his progress. This might involve discussing results, solving unexpected problems, or brainstorming what to do next. Before long, its lunch time, which Soon Jung typically enjoys with members of her team. The afternoon involves a mixture of discussion with her PostDoc, and having some time in her office to read the latest relevant literature.
Soon Jung uses her weekend to spend quality time with her children, and makes use of Stuttgart's many playgrounds and festivals, such as the pumpkin festival and the Christmas markets. She also knows some of the best places to eat in Stuttgart, and will sometimes take her students out for a meal. In particular, she recommends the Korean restaurants Mandu and Soban, which are both near the city centre.
Ali Alavi: a British director and head of the electronic structure theory department.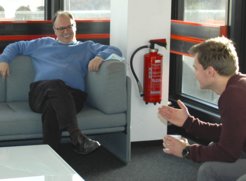 Ali started his academic career in classical molecular dynamic simulations. As his career progressed, he transitioned to electronic structure theory, realising that it was necessary in order to obtain a deeper understanding of the behaviour of molecules and materials. Ali describes electronic structure theory as inherently very complex, suiting the mindset of the chemist - for whom complexity is an integral aspect of the world.
Ali splits his time between Stuttgart and Cambridge, where his family lives. On an average day in Stuttgart, Ali dedicates as much time as possible to discussing the science with members of his group. He finds these discussions are essential for problem solving and sparking new ideas. Other parts of his day involve writing references and reports, and occasionally running his own calculations. Outside of work, Ali enjoys going for walks in the surrounding areas of the institute. When his family visits, they will head into the Black Forest as a break from city life. As a personal endeavour, Ali works on his language skills with weekly German lessons.