EU-40 Materials Prize 2017 of the European Materials Research Society
for Professor Bettina Lotsch

The EU-40 Materials Prize is awarded to young scientists under 40.
The European Materials Research Society seeks to honor those whose work has already had a major impact in the field, and those young researchers whose work already leads to great expectations for future leadership. The award is reserved to researchers showing exceptional promise as leaders in the materials science having performed the research for which this prize is awarded while working in Europe. (E-MRS)
This year Professor Bettina Lotsch was awarded with this prize "for her outstanding contributions to nanomaterials for energy conversion, energy storage and sensing" at the 2017 Spring Meeting of the European Materials Research Society.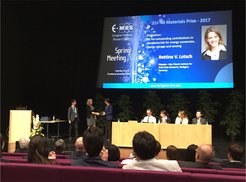 Her research explores the rational synthesis of new materials by combining the tools of molecular, solid-state and nanochemistry. Focal points include "smart" photonic crystals for optical sensing, porous frameworks for photocatalysis, solid electrolytes for Li ion batteries and soft chemistry routes towards 2D materials.