Our institute is home to over 500 staff and students. On this page, we highlight some of these people, showing off not only their scientific research, but also their life here in Stuttgart.
Apa Singha: An Indian scientist and head of the Quantum Sensing Group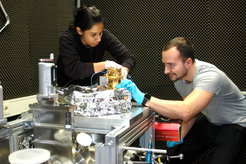 Apa's career has taken her all over the world: starting in India, and living in Denmark, Switzerland, Korea, and finally, here at our institute. Along the way, she has grown expertise in experimental condensed matter physics, with a particular focus on magnetism in low-dimensional systems. During her PhD at EPFL, she focused on creating the first single-atom and single-molecule magnets on surfaces. And then in her postdoctoral work, she investigated quantum sensing at the atomic scale, combining electron spin resonance with scanning tunnelling microscopy. Her work has not gone unnoticed, and she was the recent recipient of the CZS Nexus grant, a young researcher grant jointly awarded by IQST and Carl Zeiss Foundation, as well as an Emmy Noether grant from the German Research Foundation (DFG), allowing her to establish an interdisciplinary research group focusing on non-invasive magnetic imaging and atomic-scale quantum control. Her independent research group now aims to understand and control quantum properties of individual atoms via non-invasive methods, employing state-of-the-art NV-magnetometry techniques.

Apa is grateful that this institute is home to her research group. When asked, she emphasised that the the institute strikes a right balance between being well-structured—so one can efficiently navigate administrative and technical needs—while simultaneously holding an "open-science" culture, meaning anyone can approach other departments, facilities, and professors, allowing for multidisciplinary collaboration and creative problem solving. This culture also promotes intellectual freedom and flexibility. Apa can research into directions that she finds promising, and can offer her PhDs and PostDocs similar flexibility. As a result, students are able to learn and grow at their own pace and in their own direction.
Eva Zurek: A former PhD student at our institute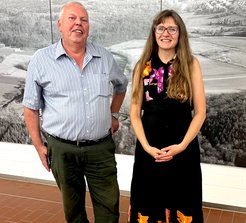 Eva Zurek was a former PhD student at our institute, and one of the first students to receive a PhD fellowship from the International Max Planck Research School (IMPRS) for Advanced Materials. A decade after graduating, Eva was promoted to full professor at the University of Buffalo. She recently came back to visit us, on a self-titled 'workation', where she and her family took time to site-see Europe, visit relatives, and simultaneously visit scientists, institutes and conferences. At our institute, Eva offered us some time to reflect on her PhD experience.

Eva's PhD led her to be a very multidisciplinary thinker. She entered a group comprised primarily of computational solid-state physicists. With her theoretical chemistry background, this created a scientific language barrier between her and her colleagues. But this obstacle proved to be a great opportunity. Eva learned new perspectives, widened her knowledge-base, and gained deeper understandings. Her efforts to cross the chemistry-physics divide led her to the work of Nobel Laureate Roald Hoffman. And in turn, Eva would later complete a PostDoc under Hoffman. It is now no surprise she serves in the APS-chair line for the Division of Computational Physics, while simultaneously being a chemistry professor, leading a group consisting of (at one time or another) chemists, physicists, geoscientists, and materials engineers. In addition to her multidisciplinary nature, Eva's PhD had other influences on her career. Her time with us inspired her newfound focus on superconductivity—a topic she'd found fascinating at our institute, although did not directly study at the time. She also met numerous important future collaborative partners, such as Warren Picket and Lilia Boeri.

When asked, Eva's advice to incoming PhD students was 3-fold. The first piece, perhaps unsurprisingly, was to take the opportunity to learn from others. Whether it's chemists or physicists, theorists or experimentalists, Eva believes that there is a lot to be gained by interacting with different perspectives. A second piece of advice was to not be afraid of being independent. "Don't wait for your boss to give you a project. If you see something interesting, use it as an opportunity to be independent and explore it," she explained. Eva further commented that the institute was a great place to have freedom to explore her interests. Thirdly, Eva encouraged patience. Much of the time, PhD students will be exposed to ideas that will need time to develop and come to fruition. And so, if a student does not immediately understand the science that they're being exposed to, that does not necessarily mean the exposure is not valuable.

---
Bettina Lotsch: A German director and head of our nanochemistry department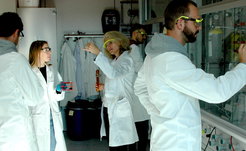 Bettina started her academic path at the University of Munich (LMU), where she studied chemistry. After completing her dissertation in solid state chemistry, she went to Toronto, Canada, for her postdoc, and in 2009 became a tenure track assistant professor at LMU. Since 2011 she simultaneously worked as an independent group leader at our institute. Then, in 2017, Bettina became director of the Nanochemistry department. Bettina was always fascinated by the chemists' ability to judiciously "sculpt" new materials from the bottom up. Along these lines, her team combines the versatile toolbox of molecular, solid-state and nanochemistry to synthesize new multifunctional materials by combining molecular and 2D building blocks in a (somewhat) LEGO-type fashion. Bettina's research is inspired by the grand challenges of our time - especially the need for new materials and innovative concepts to master the energy transition - but grounded by Max Planck's idea (which she shares!) that insight must precede application. With her team, she currently develops hybrid energy concepts like solar batteries and "dark photocatalysis" with the aim of bridging the gap between solar energy conversion and electrochemical energy storage. Bettina still maintains a close relationship with LMU, and is an honorary professor there with many of her PhD students enrolled at LMU. Since 2020 she is also honorary professor at the University of Stuttgart.

A "typical" day for Bettina-if it exists!-involves taking her son to the Campus Kita Forscherzwerge, followed by a subgroup meeting with focused research discussions and lots of coffee in the morning, spending more time on other meetings in the afternoon and "contemplative" work like reading papers and writing letters, reviews and the like in the evening. Ideally, she wants to maximise her time spent on actual research, as this should be the core business of a scientist in whatever position. Outside of work, Bettina enjoys spending time with her family at her second home, the Ammersee and the nearby Alps, which serve as charging stations for her batteries, and if time permits (which is an exceedingly rare phenomenon!), she enjoys reading, running, and playing the violine.

---
Philip Haupt: a Canadian PhD student working on electronic structure theory.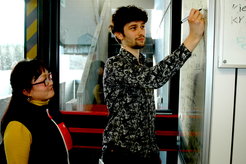 Philip originally began working with our institute in 2017 as part of an exchange program with his home university, UBC, in Vancouver, Canada. Back then, he was a bachelor student, and gained valuable experience working on a machine-learning approach to prescreening of data. He enjoyed his 8 months in Stuttgart so much that he would eventually return for his PhD. Now, he is contributing to solving the many-body problem via an algorithm based on first principles quantum chemistry, known as the transcorrelated Full Configuration Interaction Quantum Monte Carlo (TC-FCIQMC). What draws Philip to this project is its combination of several of his academic interests: complex mathematics, quantum physics, algorithm analysis and software development. His group is unique in that many of Philip's colleagues work remotely across Germany and Europe as a whole.

Philip's typical day involves walking or cycling through the surrounding forests of our institute on his way to work. Upon arriving at the office, Philip implements his learned skills of self-motivation, as a lot of his projects involve independent work. He has adopted the pomodoro method, which involves approximately 30 minutes of work, followed by a 5 minute break. But his work isn't all alone, and he meets with his supervisor, Ali Alavi, almost every day. Sometimes those meetings are just a quick check in, and sometimes can lead to deep analysis of particular obstacles within his project. Until recently, Philip also took German classes. He has the option of taking lessons directly through the institute, but he has chosen to take lessons via a separate school, the DeutschAkademie, which is then partially reimbursed by us.

---
Marion Vogel: The Manager of our Guest House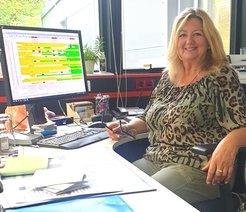 Marion has been working at our institute for over 22 years, first working in the Project Funding Department and later transferring to the management of our on-site accommodation, known as the Guest House. New employees may occupy the Guest House for a short time while they search for permanent accommodation. And during that time, Marion also assists these new employees in finding their new Stuttgart home. Her role includes meeting up with landlords on behalf of the employees and using her large network to find more housing opportunities. Marion really enjoys helping her colleagues settle into their new life, as well as meeting vibrant and diverse people from all over the world. Marion has also taken advantage of the language classes provided by the institute.

Marion was born and raised in Stuttgart, Germany. In fact, she grew up in the neighbourhood adjacent to our institute, Büsnau, where she still lives today. Marion enjoys the family-orientated community feeling of Büsnau, which consists of just a few thousand people. There is a small yet convenient grocery store here in the neighbourhood, and larger shops in Stuttgart-Vaihingen just a few bus stops away. From Büsnau, Marion can take advantage of the large forested areas and lakes around the institute. She also recommends Schloss Solitude, just West of Stuttgart.

---
Daniela Tabrea: a Romanian PhD student studying 2D electron systems
Daniela completed her undergraduate degree in Romania, and then moved to Stuttgart for her Master's degree, as a member of the International Max Planck Research School for Condensed Matter Science (IMPRS-CMS). After finishing her Master's degree in Jurgen Smet's group, she decided to continue her research as a PhD student. The variety and quality of resources and services offered by the institute allow her to work effectively and with minimal barriers. She also emphasizes the luxury of working in her group, where a large diversity of sample preparation facilities and measurement equipment is available. This abundance ensures that most of the group members' scientific needs are covered and that waiting time is low. One such example is the cryostat she uses, which can reach temperatures as low as 10 miliKelvin (very close to absolute zero).

The typical day for Daniela begins with a walk to work, allowing her both a scenic and meditative start to her day. When she arrives, she tries to focus on the most mentally strenuous tasks first, such as reading tricky papers, because this is when she finds her mind at its sharpest. Lunch is normally spent with her group members, which can be as short as 5 minutes (when important experiments are taking place), or as long as an hour. After lunch, Daniela normally heads to the lab. This can include collecting & analyzing data, eliminating noise, and troubleshooting. In the evening, Daniela may be found attending a book club meeting, or playing badminton with her colleagues.

---
Lena Majer: A German PhD student working on Thermal Laser Epitaxy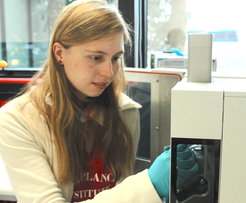 Lena is a local to Stuttgart, having been both born and raised here. For both her Bachelor and Master degrees, she focused on electron spin resonance (ESR). During that same time, she took interest in the field of epitaxy thanks to a university seminar course. As a result, she began her doctoral research here at our institute where she works on specifically Thermal Laser Epitaxy (TLE); a new and upcoming method for the creation of thin films. At the beginning of her PhD, Lena focused on the production of thin metallic films, and will now continue with the production of oxide films.
In her spare time, Lena is active with a student beekeeping association at the University of Stuttgart. Together with other students, Lena cares for bees and in turns harvests their honey! Additionally, Lena is involved with the Sindelfingen Riding Club. Her passion for horseback riding takes her weekly to Weil der Stadt, which she describes as a beautiful town where you can not only ride, but also hike and enjoy nature.

---
Rotraut Merkle: a German scientist working on ceramic fuel cells.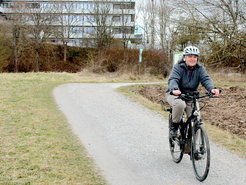 Rotraut grew up just North of Stuttgart in Ludwigsburg. She completed her PhD in physical chemistry at the University of Stuttgart, and has now worked at our institute since 1998. She works in Joachim Maier's department, focusing on ceramic fuel cells which are constructed from proton-conducting oxides. Rotraut typically supervises between 2 to 4 PhD students. This is one of the highlights of her job, as she supports the growth of these young scientists over several years. Rotraut commented that all of the department's PhD students share a strong enthusiasm towards science, and yet are all unique in their approaches and characters.

Rotraut appreciates that our institute has a broad mixture of physicists and chemists, as well as theorists and experimentalists. This diversity allows easy access to specialised knowledge from other fields. Rotraut commutes to work with her pedelec (ebike), and so is putting electrochemistry to work even before she starts her day of electrochemical research! Outside of work, Rotraut loves exploring the green surroundings of Stuttgart, and particularly recommends the Botanical Garden of Hohenheim, which serves as both a large beautiful park and an impressive scientific collection of plants and trees.

---
Chuanlian Xiao: a Chinese PhD student working on the physical chemistry of solids.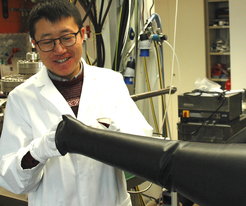 When Chuanlian was completing his Bachelor's thesis in China, his supervisor told him about the various Max Planck Institutes in Germany. His supervisor had studied at one of our institutes in Postdam, and talked highly of the experience. Combined with a visit to China by one of our directors, Professor Maier, Chuanlian was ultimately inspired to complete his Masters here in Stuttgart. Chuanlian thoroughly enjoyed this experience. For one thing, he was pleased to learn and develop his research skills under the guidance of Professor Maier. For another, he describes how his learning does not stop at the boundary of his department, as he regularly relies on the expertise of other groups, such as the thin-film group, interface analysis group, crystal preparation group, TM group, and the nano-structuring lab. As a result, Chuanlian decided to stay with us for his PhD as well!

For Chuanlian, the average day begins with either reading recent literature, or working on the theoretical component of his work. Then, after lunch with his colleagues, the afternoons are typically dedicated to experimentation. About once a week, he'll finish his workday with a game of football with other colleagues. Chuanlian is a big fan of football, and has been to seen several VfB Stuttgart football games since arriving in Germany. On other days, he attends one of the German language courses offered by our institute, or goes jogging through the nearby forests, where he can visit one of several scenic lakes.

---
Sabine Lacher: a German chemical technical assistant.
Sabine was born in Stuttgart and would regularly pass by our institute in her car, wondering what it would be like to work in such a big and grand building. And in 1984, she found out! She was hired as a chemical technical assistant, working in the crystal growth group, and has maintained the role ever since. Over the years, she has also become an integral part of the institute's community. Namely, she's part of the Work Council, and helps organise the various sports at our institute. Thanks to her, we currently have 3 Pilate, 2 yoga, and 1 spinal-exercise classes, which together welcome over 50 colleagues per week. Additionally, she spent 8 years as the women's representative in the institute. During this time, she pushed for there to be a Kindergarten here at the institute. And her hard work paid off! We now have an in-house Kindergarten for the children of our scientists and staff!

One of her favourite parts of her job is how multicultural the workplace is. She meets people from all over the world, and as such, has learned a great deal about many cultures from around the world. She's committed to an environmental lifestyle and therefore avoids flying. But through this institute, she feels as though she has an insight to the world right from her lab room. Outside of the institute, she enjoys biking (to and from work) and seeing the many classical music concerts that Stuttgart has to offer.

---
Rebecca Pons: a German PhD student working on solid state spectroscopy.
Rebecca is working on the newly discovered nickelate superconductor. She grows thin films by molecular beam epitaxy, and then completes a chemical reduction and analysis to find the material's oxidation state. Rebecca wasn't always an experimentalist, and comes from a theoretical background with a Masters on ferromagnetism in twisted bilayer graphene.

Rebecca is also one of the institute's PhD representatives. The PhD representatives aim to foster community amongst the PhD students by organising events such as board game nights, BBQs, and an annual PhD trip. This year's trip was to Vienna, and the students spent their time visiting other scientific institutes, as well as enjoying some city-seeing and plenty of team-bonding. The representatives also organise career events, such as a recent python workshop. Outside of the institute, Rebecca enjoys music, and has found a fellow PhD student to make music with; he plays piano while she plays violin.

---
Prosper Ngabonziza: a Rwandan PostDoc working on quantum electronics.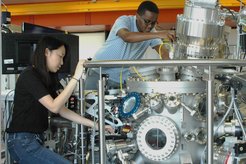 Prosper's research work at the Max Planck Institute focuses on quantum matter heterostructures and related nanoscale electronic devices. He is also a member of several international scientific communities, such as the Global Young Academy (GYA) and the African Lightsource Foundation. Within his work, Prosper takes advantage of many of the resources here at the institute, such as collaboration with the Stuttgart Center for Electron Microscopy, using the cleanroom facility of our Nano-structuring lab, our computer services and our various supply stores.

Beyond his scientific work, he also makes use of our in-house childcare center. He is glad that his child can benefit from a childcare center that has good infrastructures, pedagogical tools, and bilingual teachers. Sometimes, he also attend various events and recreational activities within the city of Stuttgart. For example, Prosper often takes his children to various playgrounds, museums, and the zoo. Two stand-out events for him are Stuttgart's Africa festival and the Stuttgart Christmas market.

---
Soon Jung Jung: a Korean senior scientist working with low-temperature scanning tunnelling microscopy.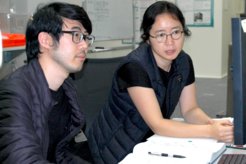 After completing her PhD in South Korea—with much time spent on exchange at Stanford—Soon Jung started researching semi-conductors at Dublin Trinity College. Shortly after, in 2013, she continued this research at our institute in Stuttgart. Soon Jung typically starts her day by dropping her youngest of two daughters off at our institute's on-campus child care centre. From there, she will meet with her PhD student to discuss his progress. This might involve discussing results, solving unexpected problems, or brainstorming what to do next. Before long, its lunch time, which Soon Jung typically enjoys with members of her team. The afternoon involves a mixture of discussion with her PostDoc, and having some time in her office to read the latest relevant literature.

Soon Jung uses her weekend to spend quality time with her children, and makes use of Stuttgart's many playgrounds and festivals, such as the pumpkin festival and the Christmas markets. She also knows some of the best places to eat in Stuttgart, and will sometimes take her students out for a meal. In particular, she recommends the Korean restaurants Mandu and Soban, which are both near the city centre.

---
Ali Alavi: a British director and head of the electronic structure theory department.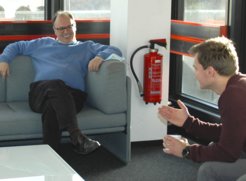 Ali started his academic career in classical molecular dynamic simulations. As his career progressed, he transitioned to electronic structure theory, realising that it was necessary in order to obtain a deeper understanding of the behaviour of molecules and materials. Ali describes electronic structure theory as inherently very complex, suiting the mindset of the chemist - for whom complexity is an integral aspect of the world.

Ali splits his time between Stuttgart and Cambridge, where his family lives. On an average day in Stuttgart, Ali dedicates as much time as possible to discussing the science with members of his group. He finds these discussions are essential for problem solving and sparking new ideas. Other parts of his day involve writing references and reports, and occasionally running his own calculations. Outside of work, Ali enjoys going for walks in the surrounding areas of the institute. When his family visits, they will head into the Black Forest as a break from city life. As a personal endeavour, Ali works on his language skills with weekly German lessons.