Life at the Institute
Our institute is home to over 500 staff and students. Here, we aim to highlight some of these people, showing off not only their scientific research, but also their life here in Stuttgart.
Meet Prosper Ngabonziza: a Rwandan PostDoc working on quantum electronics.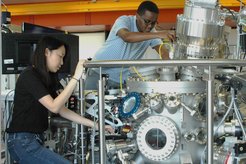 His work contributes to the future of nanoscale, such as electron transistors, clean energy technologies, solar cells, light-emitting diodes, and quantum computers. Prosper is also a member of several international scientific communities, such as the Global Young Academy (GYA) and the African Lightsource Foundation. Prosper take advantage of many of the resources here at the institute. Within his work, he collaborates (or makes use of) the Stuttgart Center for Electron Microscopy, our computer services, the nano-structuring lab, the library, and our various supply stores.
Beyond the science, he also makes use of our in-house childcare center. He is glad that his children can benefit from a childcare center that has good infrastructure, pedagogical tools, and bilingual teachers. He also takes advantage of the various events and facilities within the city of Stuttgart. For example, Prosper regularly takes his children to various playgrounds, museums, and the zoo. Two stand-out festivals for Prosper are Stuttgart's Africa festival, as well as the Stuttgart beer festival!