The Max Planck Society invites outstanding young scientists to apply for the position of Max Planck Research Group Leader.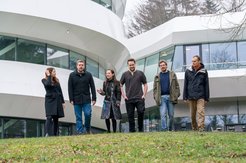 The successful candidates will be offered their own Max Planck Research Group at a participating Max Planck Institute of their own choice for an initial period of six years. As a Max Planck Research Group Leader, you will enjoy a world-class research environment at a Max Planck Institute with state-of-the-art infrastructure, administrative support, and the intellectual freedom to pursue an original research programme. The generous funding package of up to two million euros includes a German W2 position (equivalent to an assistant or untenured associate professorship), additional resources for the hiring of scientific staff and a budget to realize the project.
The Max Planck Institute for Solid State Research is participating in this call and will be available as a host institute. If you are considering to become a Max Planck Research Group Leader at our Institute, please contact Dr. Michael Eppard.
To submit your application online and for more details about the programme, please visit:
The deadline for applications is May 11, 2023.