Program
  The 
Program Details
are now available.
Introductory slides
(PDF) are also available to have relevant links and  other pieces of information available at one glance! 
Talks of 35 minutes and 25 minutes have been arranged. All participants, including all speakers, are welcome to bring a poster for discussions. All posters will be virtually on display throughout the conference. Live discussions will be possible in a reserved virtual room during the time dedicated to poster presentations. For planning purposes, we advise to proceed to the virtual check-in as early as 13:30 (Berlin time) on Tuesday 16, 2020. Check-in will include a quick testing of audio/video/ and file sharing (only for speakers) capabilities.
During your free time (coffee/lunch break), participants will have the opportunity to scroll through the list of posters prepared for the event. Participants are invited to suggest one or two poster (give author name by Chat). Selected poster authors will have the chance to give "Flash Presentations" (~5 min) in a dedicated virtual room during poster presentation time slot.
CEDT (Central European Summer Time) UTC+2 EDT (Eastern Daylight Time) UTC-4 CST (China Standard Time) UTC+8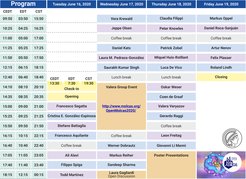 Here the direct link to Valera group event.


Tuesday June 16, 2020
CEDT 13:30 EDT 07:30 CST 19:30
Check-in
CEDT 14:35 EDT 08:35 CST 20:35
Opening
CEDT 15:00 EDT 9:00 CST 21:00
Francesco Segatta video
University of Bologna
Simulation of X-ray linear and non-linear spectroscopy with OpenMolcas
CEDT 15:25 EDT 9:25 CST 21:25
Cristina E. González-Espinoza video
University of Geneva
New tools for frozen density embedding theory methods
CEDT 15:50 EDT 9:50 CST 21:50
Stefano Battaglia video
Uppsala University
Extended dynamically weighted CASPT2
CEDT 16:15 EDT 10:15 CST 22:15
Francesco Aquilante video
THEOS - Theory and Simulation of Materials
One and not-the-same: A materials science point of view on OpenMolcas
CEDT 16:40 EDT 10:40 CST 22:40
Coffee break
CEDT 17:05 EDT 11:05 CST 23:05
Ali Alavi video
Max Planck Institute for Solid State Research
Recent developments in the FCIQMC method and the NECI code
CEDT 17:40 EDT 11:40 CST 23:40
Filippo Spiga video, presentation
NVIDIA
Accelerate science innovation via NVIDIA A100 and NVIDIA HPC SDK
CEDT 18:15 EDT 12:15 CST 00:15
Todd Martínez video
Stanford University
First Principles Molecular Dynamics and GPUs: Progress so far and speculation on the future of
theoretical chemistry
Wednesday June 17, 2020
CEDT 09:50 EDT 03:50 CST 15:50
Vera Krewald video
TU Darmstadt
Orbital entanglement analysis of magnetically coupled transition metal complexes
CEDT 10:25 EDT 04:25 CST 16:25
Jeppe Olsen video
University of Aarhus
Wave functions using several sets of optimized orbitals with applications to transition metal dimers
CEDT 11:00 EDT 05:00 CST 17:00
Coffee break
CEDT 11:25 EDT 05:25 CST 17:25
Daniel Kats video
Max Planck Institute for Solid State Research
Internal and external synergy: Corrected coupled cluster
CEDT 11:50 EDT 05:50 CST 17:50
Laura M. Pedraza-Gonzáles video
University of Siena
a-ARM: Automatic Rhodopsin Modeling with chromophore cavity generation, ionization state selection,
and external counterion placement
CEDT 15:15 EDT 06:15 CST 18:15
Saurabh Kumar Singh video
Indian Instiute of Technology Hyderabad
Modeling magnetic properties of actinide molecular complexes
CEDT 12:40 EDT 06:40 CST 18:40
Lunch break
CEDT 14:10 EDT 08:10 CST 20:10
Valera group event
CEDT 16:15 EDT 10:15 CST 22:15
Coffee break
CEDT 16:40 EDT 10:40 CST 22:40
Werner Dobrautz video
Max Planck Institute for Solid State Research
Spin-free stochastic CASSCF in OpenMolcas via GUGA-FCIQMC applied to exchange-coupled polynuclear
spin systems
CEDT 17:05 EDT 11:05 CST 23:05
Markus Reiher video is unavailable for technical reasons
ETH Zurich
Update on DMRG related projects with QCMaquis
CEDT 17:40 EDT 11:40 CST 23:40
Sandeep Sharma video
University of Colorado, Boulder
Cheap multireference methods
CEDT 18:15 EDT 12:15 CST 00:15
Laura Gagliardi
University of Minnesota
Open discussion on the future directions of OpenMolcas
"Moving forward with electronic structure theory codes: Fortran, C or Python?"
Thursday June 18, 2020
CEDT 09:50 EDT 03:50 CST 15:50
Claudia Filippi video
University of Twente
"Exciting" developments in Quantum Monte Carlo
CEDT 10:25 EDT 04:25 CST 16:25
Peter Knowles video
Cardiff University
Coupled Cluster Theory and Full Configuration Interaction for electrons, photons and vibrations
CEDT 11:00 EDT 05:00 CST 17:00
Coffee break
CEDT 11:25 EDT 05:25 CST 17:25
Patrick Zobel video
University of Vienna
The IPEA Dilemma in CASPT2
CEDT 11:50 EDT 05:50 CST 17:50
Miquel Huix-Rotllant video
Aix-Marseille University
Analytic Hessian of the QM/MM electrostatic potential fitting method
CEDT 12:15 EDT 06:15 CST 18:15
Luca De Vico video
University of Siena
Keep on "pushing the envelope": Excitonic coupling for bacteriochlorophyll dimers
CEDT 12:40 EDT 06:40 CST 18:40
Lunch break
CEDT 14:10 EDT 08:10 CST 20:10
Oskar Weser video
Max Planck Institute for Solid State Research
Stochastic GASSCF and Fe porphyrin
CEDT 1435 EDT 08:35 CST 20:35
Coen de Graaf video
ICREA & Universitat Rovira i Vírgili
Non-orthogonal configuration interaction in GronOR interfaced to OpenMolcas
CEDT 15:00 EDT 09:00 CST 21:00
Valera Veryazov video
Lund University
Fiddling with density matrix norms
CEDT 15:25 EDT 09:25 CST 21:25
Gerardo Raggi video
Uppsala University
Machine learning in OpenMolcas
CEDT 15:50 EDT 09:50 CST 21:50
Coffee break
CEDT 16:15 EDT 10:15 CST 22:15
Leon Freitag video
University of Vienna
QCMaquis in OpenMOLCAS: New interface and a photodissociation study of a Pt(IV) complex
CEDT 16:40 EDT 10:40 CST 22:40
Giovanni Li Manni video
Max Planck Institute for Solid State Research
Resolution of the low-energy states in spin-exchange coupled transition metal cubanes: The Fe(III)4S4 test case
CEDT 17:05–18:15 EDT 11:05–12:15 CST 23:05–00:15
Poster Presentations
Friday June 19, 2020
CEDT 09:50 EDT 03:50 CST 15:50
Markus Oppel video
University of Vienna
Porting OpenMolcas onto NEC's SX-Aurora Vector Engine
CEDT 10:25 EDT 04:25 CST 16:25
Daniel Roca-Sanjuán video is unavailable for technical reasons
Institut de Ciéncia Molecular (Universitat de València)
On the determination of molar absorptivities in condensed phases with multiconfigurational quantum chemistry
CEDT 11:00 EDT 05:00 CST 17:00
Coffee break
CEDT 11:25 EDT 05:25 CST 17:25
Artur Nenov
University of Bologna
Simulation of UV-Vis non-linear spectroscopy with OpenMolcas
CEDT 11:50 EDT 05:50 CST 17:50
Felix Plasser video is unavailable for technical reasons
Loughborough University
Wavefunction analysis in OpenMolcas – new developments
CEDT 12:15 EDT 06:15 CST 18:15
Roland Lindh video
Uppsala University
Restricted variance molecular structure optimizations
CEDT 12:40 EDT 06:40 CST 18:40
Closing