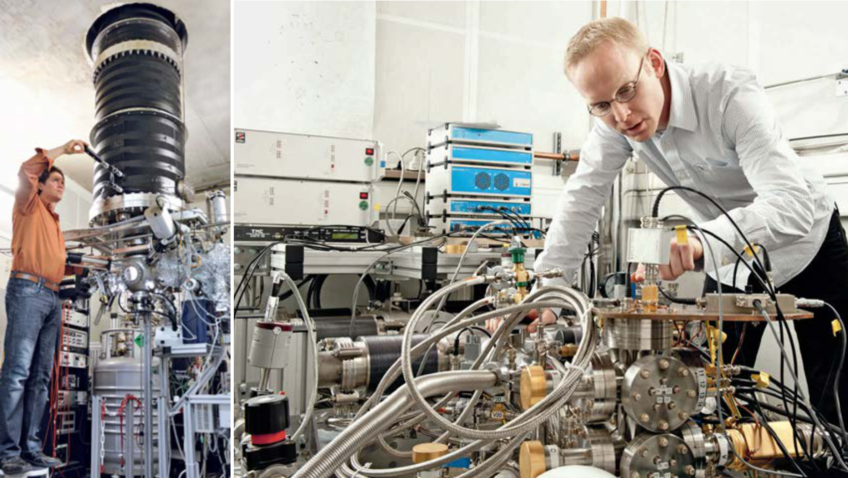 mK Scanning Tunneling Microscopy
STM has evolved into one of the most versatile tools at the atomic scale. Reducing the temperature to the lowest Millikelvin regime opens entirely new perspectives not only for the study of smallest energy scales, such as Zeeman energy, Josephson energy, elementary superconductivity, but also new insight for the tunneling process itself. With a spectroscopic resolution of 11 µeV our Millikelvin-STM currently holds the world record.
An important breakthrough was the study of the Josephson effect with the Milliklevin-STM using a superconducting sample and a superconducting tip. Here, we could perform first STM measurements of such nanoscopic Josephson junctions for which the thermal energy is small compared to the energies in the Hamiltonian (i.e. charging energy EC and Josephson energy EJ). We have demonstrated that under these conditions we are able to extract the absolute value of the Josephson critical current and thus the Josephson coupling strength of the two superconductors in the dynamical Coulomb blockade regime. This opens new possibilities to study the superconducting condensate in materials with spatially varying order parameter as well as the symmetry of the order parameter locally. In addition, we have demonstrated the possibility to use nanoscale Josephson junctions as a source and detector of radiation in the upper Gigahertz regime directly built into the tunneling junction.