Oxide MBE Lab
The new Oxide MBE system enables the growth of novel oxide heterostructures and superlattices based on single atomic layers sequences. This includes e.g. metastable poly-types, deletion and addition of atomic layers, synthesis of new artificial compounds (e.g. NiLa2-xSrxCuO5+δ), engineering inside atomic monolayers, doping of selected atomic monolayers, modulation of doping/delta doping and precise defect control within a single atomic layer and interface
Our goals are
Develop advanced technologies for the epitaxial growth of multi-component complex oxides, enabling the accurate fabrication and in-depth exploration of new heterostructured systems.
Novel quantum states and phases with unique functional properties can be realized by an accurate deposition control at the interfaces between different oxides.
Further research will be conducted in engineering new metastable compounds with unique properties via optimization of the deposition process.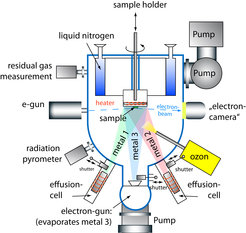 Description of the Oxide MBE system
A Dual-Chamber cluster-type Oxide MBE system (DCA 2012), consisting of two UHV growth chambers and one central distribution chamber (CDC) with automatic wafer handling, is now in use in our group.
The cassette load lock chamber allows a quick loading of the substrate into the growth chamber, and the storage chamber allows the storage of the substrate under UHV conditions.
Each growth chamber is equipped with 10 differentially pumped effusion cells and one multi-pocket electron gun.
In-situ reflection high energy electron diffraction system (RHEED) is used for growth control.
Quartz crystal microbalance (QCM) is applied to measure the absolute deposition rates.
An ozone delivery system is integrated in the MBE to supply ozone for the oxygenation during the process.
Electro-pneumatic linear shutters provide an accurate control of the layer-by-layer deposition process with a precision of a small fraction of an atomic monolayer.
The modular design of the MBE system allows an easy and fast reload or replacement of each metal source. This provides a great flexibility in depositing different complex oxides compounds including high temperature superconductors.